Erin on Earth, Bixby Creek, Giclée 2017. All photographs by Carol Henry, © 2023.
Goodall Gallery Presents
Carol Henry | Naturing | A photography exhibition
In association with the Louisville Photo Biennial.
September 8 – November 14, 2023
Artist's Reception: Friday, September 8, 6 – 9 pm.
Unique printmaking & collage workshop:
Saturday, October 7, 1-4 pm. ($20 reservations required)
Artist's Talk
Sunday, October 8, 2 pm.
Goodall Gallery, 329 Stilz Avenue | Louisville, KY 40206 Hours | Friday & Saturday Noon – 6 pm or by appointment
502.895.7455
This is a series about touching the Earth with intention. Listening to the space it creates for us. Feeling a connection through moist, vibrant living soil and embracing the talismans of the past. Slow down and breathe deeply. Feel new.
The E Series images were photographed at Bixby Creek in Big Sur, California with Erin as the model. The elk horns are a family heirloom.
◊  The E Series is a 2023 recipient of a Julia Margaret Cameron Award— Professional Fine Art Category Figure Series— Honorable Mention.
The series will be exhibited in the spring of 2024 at FotoNostrum Mediterranean House of Photography, Barcelona, Spain. 
In the early days of photography, representation was on the primitive side. Think England 1842. That is the year Sir John Herschel discovered a way to reproduce technical drawings by mixing 25g of ferric ammonium citrate with 10g of potassium ferricyanide and 100 ml of water. Enough said.
His neighbor, Anna Atkins, found the method inspiring for its beautiful cyan hue of blue. She chose to selectively create cyanotype studies with garden plants and seaweed from her most intriguing specimens. Anna also bound her unique works into the first known photography books, archived today at The Royal Society, London.
This collection of cyanotype images made in Kentucky reflects the seasons, the experience I find the most profound here. Spring is a symphony of blooms represented in Vernal Pool I & II. Cyanotypes toned in hot tea, Summer Solstice I & II are a pulse of heat and maturing seeds. But the most beautiful of all is the frozen groundwater hanging from the 400 million-year-old limestone ledges in the crisp blue winter air, Icicles. We are the metamorphosis counting off time with the seasons. Cyanotypes are my record.
Cibachrome is the gem of all photography medium and the jewel in my photography crown! It's a darkroom paper that stands unrivaled for its luminosity and archival qualities. An entire glossary of terms could be used to describe its traits and the methods to produce works upon it.
I first used the Swiss positive color paper while getting my BFA in photography at Northern Michigan, under the tutelage of Dennis Staffne. That product changed my life and opened my mind. I placed the camera on a high shelf and took a deep dive into the darkroom. No camera or film, just working directly with the subject exposed on the paper then processed to reveal a one-of-a-kind photograph also known as a unique print.
A journey that evolved into a professional career in fine art. The six photographs in the Naturing exhibition offer you a look through my kaleidoscope. Enjoy!
Assemblage is 2d theater for me. I like to use it for storytelling not so much documenting. It gives me the ability to either isolate elements within photographs I've made in the past or search through printed materials to cut out and reconfigure shapes to bring new meanings or expressions. It's a process I've explored both optically in the darkroom and physically with scissors and paint. The pieces become unique new objects which I prefer not to frame but lean on a shelf to reveal the process and texture.
Without exception is the quilt piece, The Optimistic Denrophile. A piece that pays homage to the very healthy 218-year-old sugar maple rooted in my front yard. When the tree sprouted in Springfield, Kentucky,  Abraham Lincoln was born just a few miles away, possibly the same year. Somehow it survived the Civil War and in 1871—a house was built beside it. Now my house. Currently, with a circumference of 125″ and a 40″ diameter it is a monolithic inspiration in my life. The fabric cyanotype maple leaves and trunk embellish this vintage crazy quilt along with surprises and many stitches— all to represent the years of its long life. Clearly an assemblage!
My maternal Kentucky line surrounded me with handmade quilts. An early art form that I could study from my own slumber. The Optimistic Dendrophile combines several components I am passionate about— color, texture, and trees— especially BIG trees. They speak to what it is to be lucky and also give back— expelling the oxygen we all need. They give us even more—shade, shelter, and food. Let's all plant more trees so that in the future others can stand and marvel at them.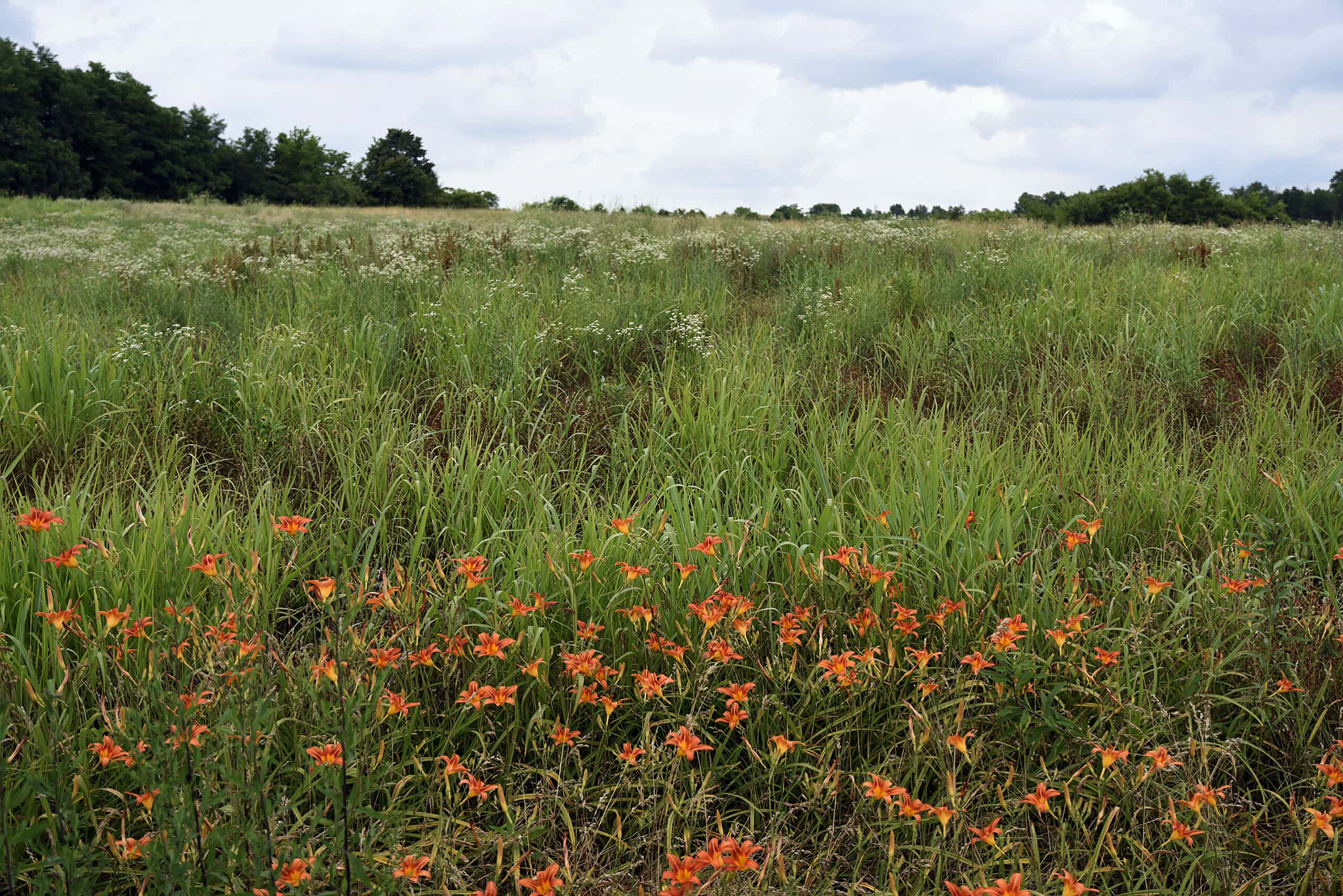 Kentucky Lilies, 2022, 32 x 40″ archival pigment print on aluminum.
Naturalized or Native? A question that I've internalized and am asked on a regular basis. The common day lily that enlivens the fields, farms, and yards in Kentucky has been rooted here for well over 150 years but it is an exotic from Asia. It does stand out in the crowd of greens,  bronzes, and blues and is appreciated by many for its easy, wild nature.
On my maternal side, European settlers came across the Cumberland Gap around the 1790s and lingered to this day in Kentucky. Thrived actually. My mother, was the first to break trail in over 150 years, moving north by twenty and I was born in Ohio. My choice was to move to Los Angeles and I adopted the Santa Monica Mountains as my home range, learning every vista, creek, plant, and flower, and spending well over half my life there.
Now I am here in Kentucky. Observing deeply as photographers do— asking myself, naturalized or native?