My interests lie in the transmission of light and
using it to capture form on a two-dimensional surface. The creation of previously unknown imagery results from transient planes which remain uniquely multi-layered in the finished works.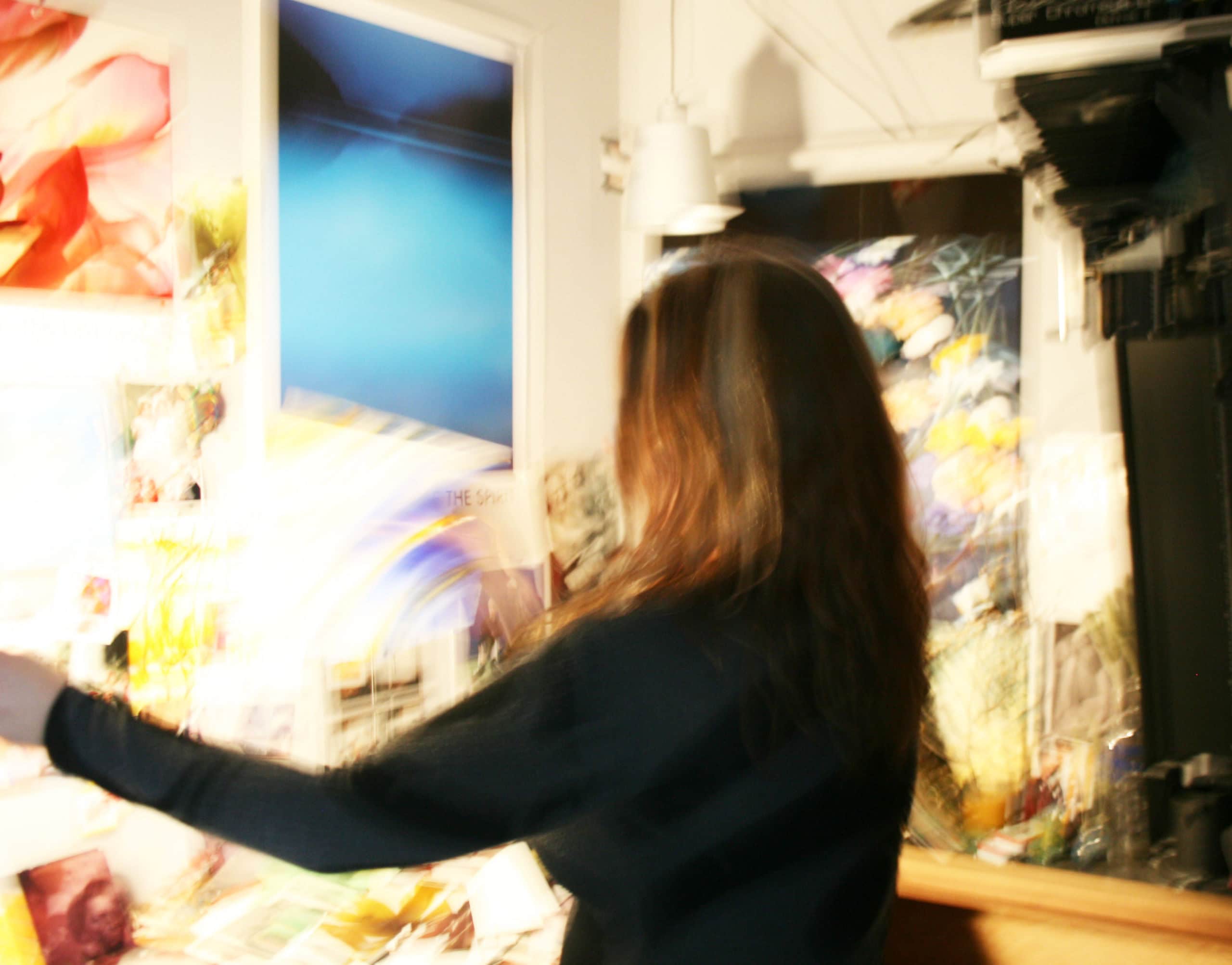 Carol Henry in her darkroom.
The darkroom is many things. It is a place where magic appears to happen. Watching a black and white image develop in an open tray is so exciting that it often is an entry into a lifetime pursuit and a costly hobby. For some it was an introduction that led to the color darkroom. Being a fine art photography major in the early 1980s, the Swiss paper Cibachrome was beginning to pique photographer's attention including mine. I had a couple years in a black and white darkoom under my belt when I was introduced to this amazing print material. It had an ultra rich black that my favorite Oriental B & W paper had, along with snappy luminous color hues. It was a positive paper used with slide film, like Kodachrome, which I had been using for quite a while by then. My father had taken a lot of slides and I had grown up with the film which seemed to be something you could use freely. It was less expensive than making negative and print sets. You could photograph more without the storage of prints,  a similar attitude not unlike today's digital images we make daily. Once I tried Cibachrome for film,  I was in love with it –until death did we part– you might say. I began experimenting and discovered that my obsession with light and the darkroom would allow me to project a controlled amount of enlarger light through something transluscent and capture it on Cibachrome. The dye destruction process that occurs in the complex development revealed an outstanding photographic result. The positive print sings with not only amazing color but depth on the glossy surface. Since those first experimental moments I knew that the unique one-of-a-kind photographs I was making would lead me to a lifetime of engagement in photography. I brought the process with me to Los Angeles, from where I went to school in Michigan, and eventually found a lab where I could continue on my darkroom path. During the next thirty years, I printed almost every day. In 2012, Ilford announced they would be taking one more order for the manufacturing of the magical material. Over the years, I had gallery representation by some of the best and my work went to all corners of the world. These photographs are prints that I have held in my personal inventory. Some are available for purchase. Please inquire.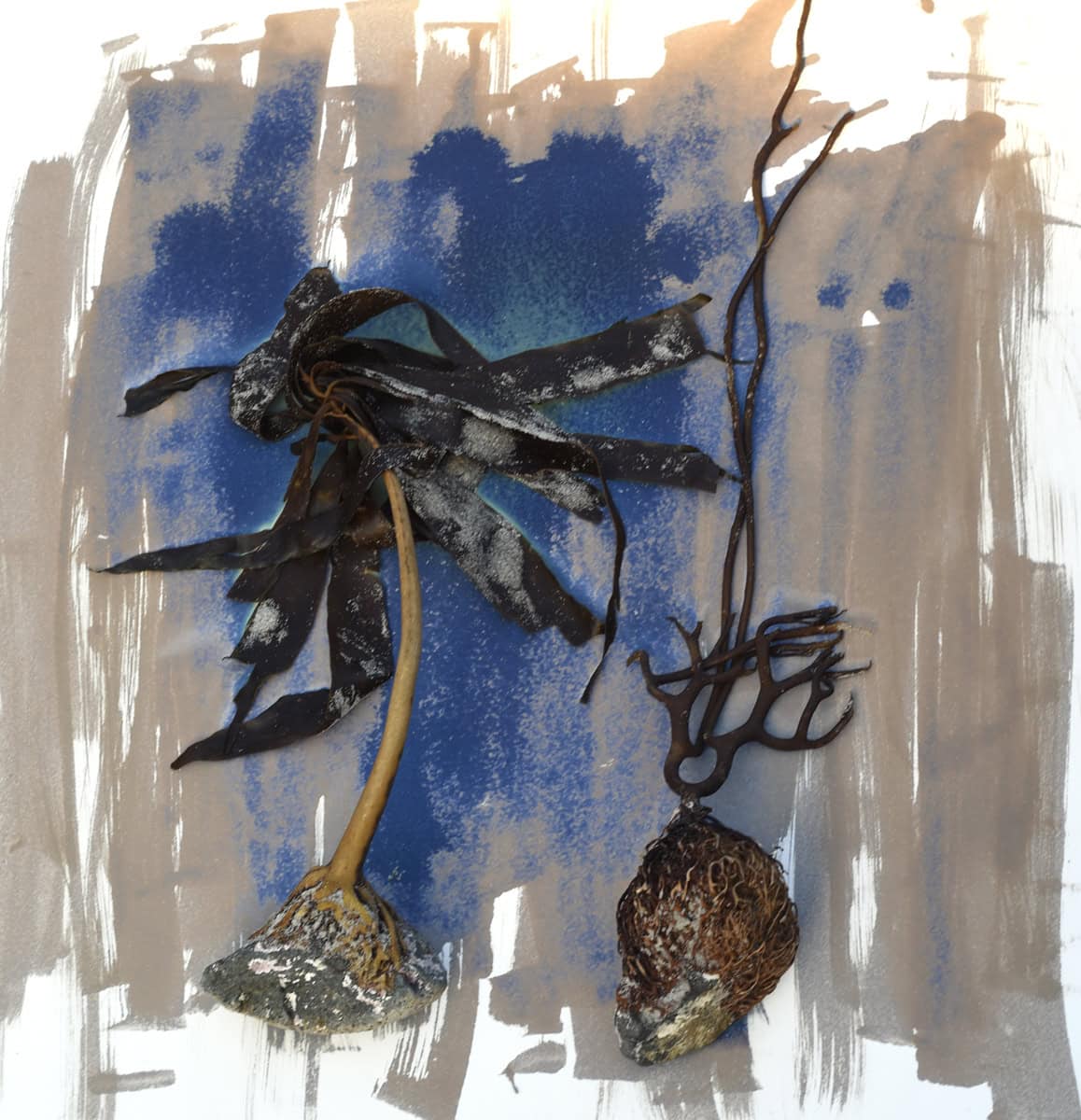 Sunlight exposure of beach kelp, California.
So what was next? After Cibachrome and a lifetime of handcrafted unique photograph making and dedicating my career to editions of one, I decided to explore the historic medium Cyanotype. The difference being it is an 1840s technology. The process itself was developed by Sir John Herschel during the mighty period of photographic pursuits between rival countries. He lived in England and was family friends with a woman who loved nature. Her name was Anna Atkins and she adopted his combination of two chemicals, ferric ammonium citrate and potassium ferricyanide, to make lasting impressions of plants and British algae. I had become aware of her work from the mid 1800s through the Getty Museum in Los Angeles. One of the seductive characteristics of the cyanotype process is that it would allow me to use similar subjects that I had been using to make interesting new unique photographs. But being a unique print is where the similarities between the two processes cease. The indigo color of a properly sensitized and exposed cyanotype is one of my favorite colors. The challenge for myself was to continue using compelling subjects and capture the same feeling of movement in my compositions which had been my desire in the previous decades. I'd like to think that people will see my signature style. There is something beautiful about using  the 175 year old process which is some of the very earliest photographic historical process.
Quite primitive in application and with a dependence on environmental conditions such as clouds and sunlight exposure, my heart still races with creativity. A challenge now is to embrace the obscurity of shadow and less with translucense. However, this winter I chose to utilize some of the beautiful and mysterious icicles that formed on the rock ledges where I live now in Kentucky. The results were just beginning to thrill me when spring set in. But I will return to that elusive reminder of water that flows through ancient limestone formations– in this region of 500 million year old Ocean fossils. I now live in a region with many new inspirations.
 Layered imagery, for The Elementalists.
Remembering back to when I first fell in love with photography, I did not make one-of-a-kind photographs. Cameras have always lined my bookshelves and I am especially fond of Nikon film cameras. When Nikon released a digital camera, I jumped right in. Digital photography has contributed to a resurgence of interest in the medium and photography which has always been about the newest technology. One of the most interesting and seductive benefits for me of going to a digital format is the opportunity to develop series concepts, store and explore multiple solutions with the commputer. A new type of manipulation that has lent itself to exploring the natural environments on a much larger scale. I've chosen climate change as a phenomena that I want to explore and develop using the computer for exploration. Just as climate is shifting the tools of photography are shifting and I feel it is a perfect pairing. Both create obstacles and opportunities.
In 2018, I curated an exhibition called The Elementalists, at Carmel Visual Arts. William Giles was the featured photographer that I wanted to include in an exhibition for some time. His large format black and white work had inspired as long as I can remember. With his friend Minor White, he had not only built the program of photography at Rochester Institute of Technology, but is an important conceptual thinker in the medium. He can see the essence behind the subject and look for energy that transfers to the surface of a photograph. Giles shows us more than we can see with our eyes. For that exhibition I paired Giles' film work and photographer Debra Achen's digital fire series with my own digital altered landscapes. Print quality is one of the issues I have with digital photography, but I found these pieces exciting and sublime! I tend to prefer the velvety surfaces for digital prints and I was very pleased with the results my collaboration with then Carmel printer, Ken Doo produced for that exhibition. Using digital files for making platinum photographs is also something that I have experimented with. A colleague in fine art photography, Kerik Kouklis, has lent his expertise to that process where I have enjoyed the leap to producing another vintage process– platinum printing photographs with digital tools.

Please enjoy looking through a selection of photographs below.
The print quality of the Cibachrome is unmatched in clarity and saturation. Each print was hand-crafted with light sensitive material.
The materials are archival and light permanent making the pieces the highest quality of fine collectable photographs. Inquire by email for price.
My obsession with nature began when I lost my mother at a very early age. The place where I found time past with wonder and solace was the back woods on the property where I grew up. I had so much freedom to explore on my own and let my imagination guide me. One thing I discovered then was the amazing form of natural design. I could stare at it indefinitely. Wildflowers came directly out of the dry winter leaves– which captivated me. I also started a skull collection of beautiful remains that I found in the woods. Winter revealed the lacy design of trees, but summer flowers just made life seem so tranquil and filled the air with fragrance. I never tire of seeing them!